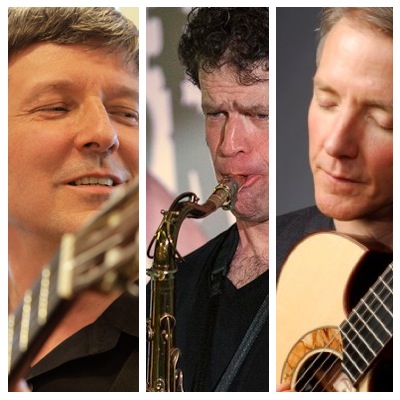 This show is SOLD OUT. A WAITING LIST is available.
Anton is joined by two masterful guitarists: New York's Paul Meyers and Portland's John Stowell.
Paul Meyers has performed and recorded with an ever growing list of jazz greats such as Karrin Allyson, Kenny Barron, Ron Carter, Ray Drummond, Eliane Elias, Clare Fischer, Eddie Gomez, Marc Johnson, Wynton Marsalis, Rufus Reid, Frank Wess and Kenny Werner. He's also toured for years with two of jazz's greatest singers: Jon Hendricks since 1993, and Andy Bey from 1997 to 2008. A very active player in New York's vibrant Brazilian and Latin jazz scenes, Paul also teaches and coaches ensembles at the prestigious William Patterson University jazz program (since 1988).
John Stowell's vast touring experience over the past forty years has taken him to hundreds of prestigious venues across six continents. He has recorded and performed with Milt Jackson, Lionel Hampton, Art Farmer, Herb Ellis, Bill Watrous, George Cables, Billy Higgins, Billy Hart, Richie Cole, Tom Harrrell and Dave Liebman… to name a few. He has been Artist-In-Residence at schools in Germany, Indonesia, Argentina, and around the United States and Canada.
As guitarists, John and Paul share beautiful tone, incredible ease and technical fluidity and, above all, brilliant musicianship. This will be quite an evening!
Learn more about saxophonist Anton Schwartz and Seattle loft concerts.